Digital Marketing For Self Storage: What You Need To Know
An understanding of self storage digital marketing is essential for any company looking to grow and acquire new customers.
The majority of storage enquiries start with an online search. Making sure your self storage website has a good online presence will help to ensure your business gets in front of the customer as they are searching.
In this article we'll delve into a few key areas you'll want to focus on to ensure your self storage digital marketing is getting results.
Local Search
One of the most important areas of focus for self storage facilities is local search. This is a term used to refer to the way search results look when a location-based query is entered e.g. 'storage in London', or 'storage near me'.
In order to maximize your visibility on these searches, there are a few areas you'll want to focus on.
Google My Business / Bing Places
When a user performs a search on Google or Bing for 'storage near me' or 'storage in [location]', they'll almost certainly see a map pack.
Below you can see the map pack for Google:
And here is the map pack for Bing:
The information shown in these listings for your facility is provided and managed by you. On Google this is done through Google My Business, and on Bing this is done through Bing Places for Business.
It's essential to get yourself on these platforms and fill out as much information as you can about your facilities. This is especially true when you consider how prominent these results are, and how important searches for 'storage near me' and 'storage in [location]' are to your business.
Citations
In order to help Google and Bing verify the accuracy of the details you provide, they will use citations from other websites.
Citations are instances of your name, address, and phone number that appear on other sites on the web. Often these will also include a link.
Some examples of these sites you may have heard of are Yell.com, Yelp.com, and even Facebook.
It's not only important to appear on the major citations sites / directories, but you should also ensure your name, address, and phone number are accurate across all these sites, as Google and Bing use this information to improve their confidence in the information they have on you.
Reviews
Reviews are one of the most important factors that searchers and potential customers use to decide on the storage company they eventually use.
There are many sites you can use to collect reviews, and some allow you to display these on your own site. However, one of the most important places for you to collect reviews is on Google My Business, due to how visible these reviews are to most people searching for storage.
Reviews don't just have a positive impact on sales, but they are also a factor in how well your Google My Business profile ranks in a Google search.
This is why you should put in place a strategy for gaining more reviews on your Google My Business profile. One good way of doing this is to send out emails to customers once they've been with you for a few weeks, checking in with how they've found the process, and asking if they wouldn't mind leaving a review.
Two main things to bear in mind:
You can't check in with the customer first to see if they've had a good experience, and ask for a review only if they appear happy with your services.
You can't offer incentives, this includes entering people into competitions if they leave a review.
Website optimization / SEO
In order to appear higher in the search results when someone is searching for storage, you'll also want to undertake search engine optimization (SEO for short). This is the process of making your website easier for search engines to read and understand.
SEO for storage companies is a large topic, and can't easily be covered quickly. However, there are a few things that can make a large difference.
Firstly, your pages should contain all the useful information that users need, but also be targeted for search engines. If you have different facilities, you should have different pages for each of them.
Your location pages should also include at a minimum: the name, address, and phone number of your site; directions; a Google Maps embed; text that includes information relevant to the local area; the services your site provides; email / contact info; and a way to get a quote.
These pages should also contain terms such as 'storage in [location]' in header tags, title tags, and around the main content of the page.
Other things to bear in mind when working on your website is ensuring it's fast and user friendly.
Google has been moving more and more towards rewarding user friendly websites. These are websites that load quickly, are secure, don't interrupt the user with annoying pop-ups, and more.
You can learn more about what page experience signals Google uses here.
Get a SEO optimized self storage website
One easy way for self storage businesses to get the SEO optimization benefits mentioned is to use Stora for your website. The Stora team have developed a self storage platform that gives you a performant storage website (and bookings / payments / facility management) for no upfront cost. It's a well optimized solution following the best practices outlined. My team at Storist even offered a few more pointers, which they added in to make the website optimization even better.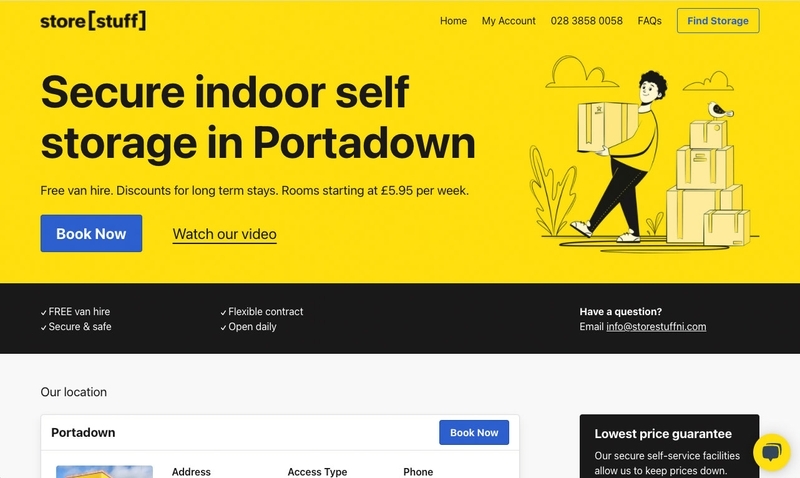 Google Ads
Google Ads occupy the most prominent position on their search results. In fact, if you're searching on a mobile device, these ads take up the entire screen of your device and then some. So you can see how important it is to show up here.
Search results as viewed on a mobile device
The concept behind Google's Adwords is quite straightforward. You select the search terms that you wish to advertise on, and you are charged every time a searcher clicks on one of your adverts.
This cost can vary depending on the level of competition and how much you choose to bid.
You can also select a daily budget that you would like to allocate towards your advertising spend.
The great thing about Google Ads is that they are extremely measurable - you are able to see exactly how much you have spent, and how much traffic has been delivered for this.
To get the most out of Google Ads it's important to have conversion tracking set up on your site. This will enable you to see each time someone performs a desirable action, such as getting a quote or reserving a storage unit. This allows you to measure the ROI from your advertising spend and ensure that any budget invested provides a positive return in terms of new customers.
Google Ads provides you with full flexibility over your budget and the ability to turn your spend on and off as your occupancy rates fluctuate.
Remarketing
Not every visitor to your website will convert first time. There's many reasons why someone might leave your site without taking action - they could be carrying out research for a house move at a future date, or they may be getting quotes from multiple providers.
For these customers, remarketing can be a great way of keeping in touch and reminding them to come back and complete their action at a later date.
Remarketing is the process of displaying adverts to site visitors on other areas of the web. This can be done on social media sites such as Facebook or Instagram, or on the Google Display Network (made up of a large number of sites around the web).
Not only does this help with your branding efforts, as customers are likely to see a few instances of your adverts, but it can also give customers a gentle reminder to take action and book their storage unit.
Summary
That concludes our overview of the main areas you should have covered as part of your self storage digital marketing approach.
The level of competition in your area will determine how much time, effort, and money you'll need to invest in your digital marketing. That being said, there's never a downside to improving your website and marketing to provide the best experience for your customers, gaining yourself a good reputation in the process.
---
Thanks to Ben Hook from Storist - the digital marketing for self storage specialists for writing this guest post.
Grow with Stora today
Join modern self storage businesses worldwide who grow sales, reduce costs and save time with Stora.