5 Ways To Sell More Self Storage Online With Discount Promotions And Coupons
Are you ready to put the sell into self storage?
Today we're here to share a few tips on how to sell more on your self storage website with promotions.
Discount promos are one of the most successful ways to attract new self storage customers. The right discount will increase your sales, enhance brand awareness, and encourage customer satisfaction and loyalty.
No matter the size of your business, when used effectively, sales promotions can help drive web sales and successfully convince your target audience to become customers.
Here at Stora, we've developed a platform optimized to help you effectively sell self storage online. That's why we've made a flexible discounts system a core pillar of our product.
Today we'd love to share with you 5 ideas we've implemented in our facility business StoreStuff, or our customers in theirs, that used discounts to bring in new customers. Don't worry if you're not a Stora customer, you can still take these tips and use them to sell more self storage online via your own online sales tool.
1. Add a coupon code to a printed flyer and deliver in your area
This sales strategy can be very effective, as it gets something of real value in front of relevant local people, greatly increasing the chances they become a customer in the future.
The idea here is to create a coupon code (eg. "20% for 3 months" or "First months half price") and have this printed on a flyer which can then be delivered to businesses and residents near your self storage facility.
The coupon codes can be created specifically to push sales in certain areas of your business. If, for example, you would like more customers to subscribe for longer periods of time, you can design your coupons accordingly eg. "Get first 2 months free when you sign up for a year". Whilst it is important that your flyer displays very clearly who you are, what you offer, and how to redeem the discount code. Don't be afraid to get a little imaginative with the design to stand out.
2. Share a time-limited discount on your social media accounts
Similar to a flyer drop, this can be a straightforward way to attract new business via your Twitter, Facebook, Instagram or LinkedIn. By offering discounts for a short period of time, it creates a sense of urgency, encouraging potential customers to buy now.
With the creation of a limited time coupon code, you can promote this discount on your social media channels with a real emphasis on the timeframe. As the expiration date approaches, you can ramp up your advertising by counting down the days and/or hours until the offer ends.
Why not consider adopting an imaginatively branded hashtag to help create a little bit of buzz around your business?
3. Experiment with promotional discounts on your web store
It's important to experiment with your prices and promotions on your different self storage units to ensure you're maximizing your sales potential.
One of the key things to keep an eye on, here, is your facility occupancy. If a particular unit type isn't selling, you can use a tailored discount optimized to help it sell. Once you're happy with the quantity sold, you can remove the discount and earn a higher amount on your remaining units of that type. We suggest trialling this for a limited period of time to see whether it affects your sales on specific units.
We encourage you to be flexible and adaptable with your discounts. Why not try "$20 off for 3 months" or "50% off for a month" and see what works best for your customers.
4. Reward people who subscribe to your mailing list
Capturing website visitors' contact details is a great way to build up a customer pipeline for your self storage business, but how do you get them to enter their email and subscribe? The promise of exclusive discounts is one approach that usually works a treat.
You can welcome new subscribers with a one-off welcome discount of $5. Then later offer an exclusive sale at quieter times of year, like winter, which should encourage new business when new move-ins are less common.
5. Offer specific communities and groups a lifestyle concession
This simple marketing tool is a nice way to target specific communities and groups like students or government workers with discounts.
This can be done via the use of flyers, social media content, and/or collaborating with customer-type specific websites and platforms. It is also worth putting some thought into special days and/or months when these promotions may work best for specific groups of people and plan well in advance in order to make the most of it.
Students, for example, may require the use of storage when moving out of their family home or to store their belongings between and during semesters, and, therefore, efforts could be focused around these specific times of the year.
Coupon codes (eg STUDENT 20% OFF) can be distributed on flyers in student unions, dorms, cafes, workspaces, and on social media. Another approach here would be to contact student discount platforms (eg, UNIDAYS) and collaborate with them to promote your storage facility and display your coupons and discounts for registered students.
This type of discount also presents a really nice opportunity for you to give back to the community by offering lifetime concessions to groups such as government employees, veterans or senior citizens.
Not able to create discounts on your current system?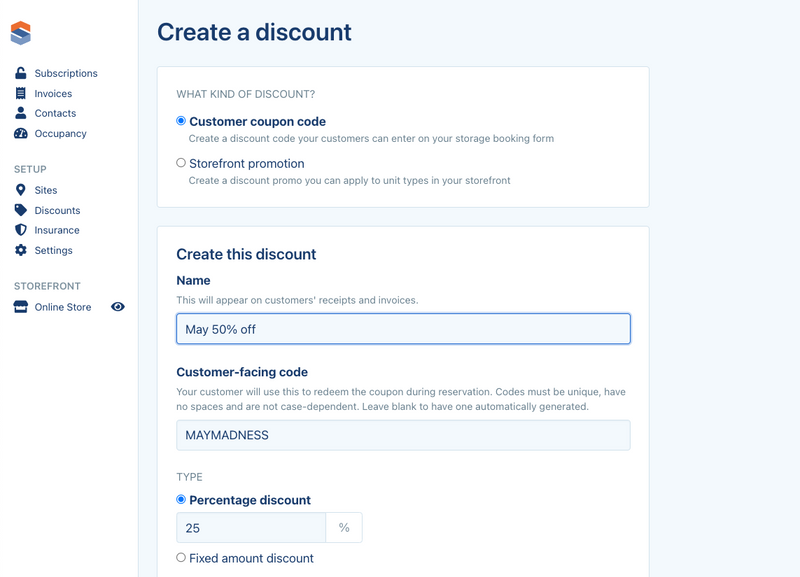 Stora offers you an easy-to-use online payments and discount platform which lets you try out all these ideas and many more. By using our flexible 'Discounts' system, you can instantly create bespoke coupon codes and unique promotions to suit your needs. Every campaign can have a unique coupon code, making it simple to track how many times each has been redeemed.
To find our more about Stora and our Discounts system get in touch.
Which one of our discount ideas will you try first?
In this article we have covered 5 promotional ideas to help you fill up your self storage facility faster:
Add a coupon code to a printed flyer and deliver in your area.
Share a time-limited e-discount on your social media accounts.
Experiment with promotional discounts on your web store.
Reward people who subscribe to your mailing list.
Offer specific communities and groups a lifestyle concession.
Hopefully there are a few approaches here that may align to the current needs of your business and that you can try out at little-to-no cost to you. This list is by no means exhaustive, and we would love to know what other promotion ideas you have that you feel would work well in your facility.
If you would like to discover more about Stora and the Discounts feature, please do book in a demo call today to learn more, and get your free account set up!
Grow with Stora today
Join modern self storage businesses worldwide who grow sales, reduce costs and save time with Stora.