Simply powerful self storage management software
Advanced automation and airtight integration of your website, sales, and tenant data turns self storage management practically hands-free.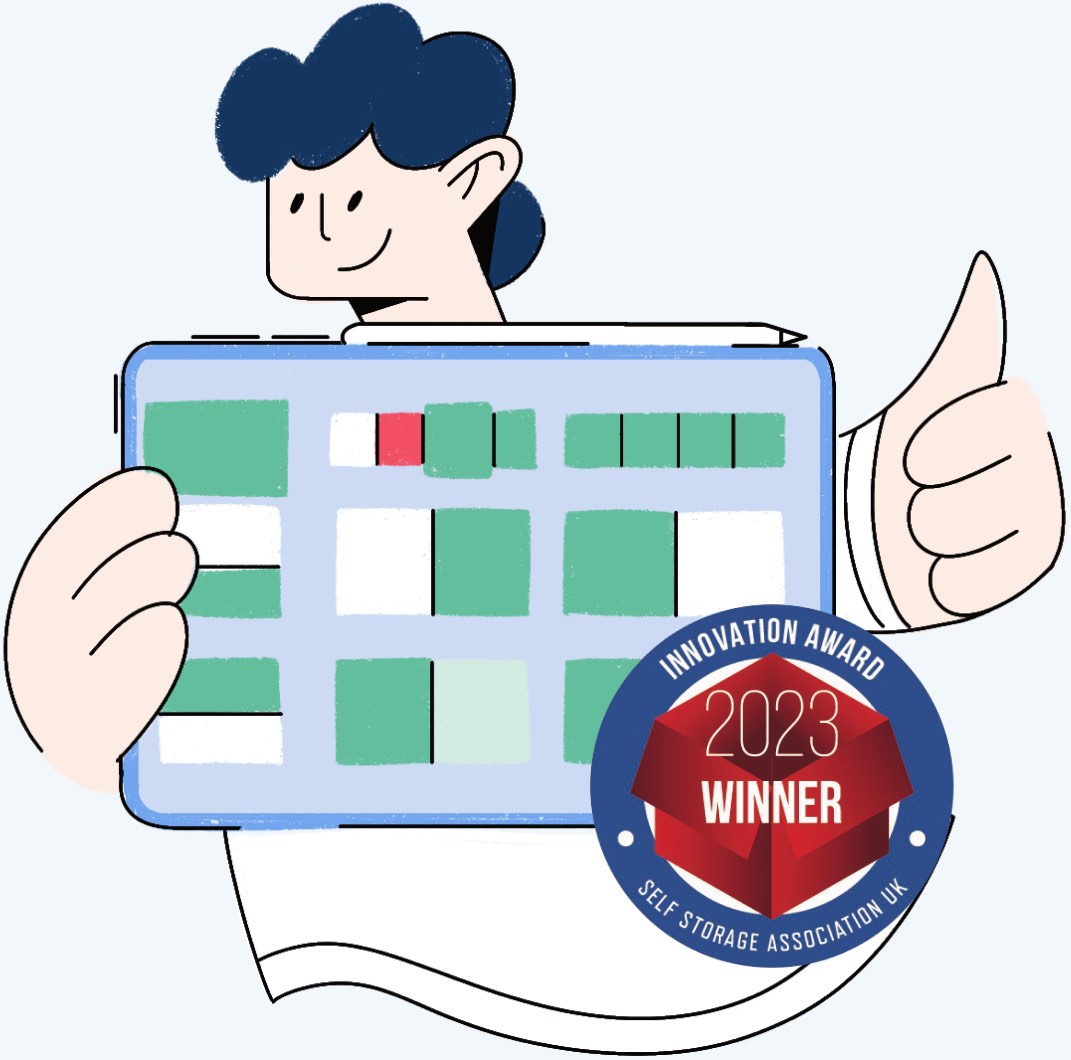 More management mod-cons than you ever imagined
Make move in days 100% self-service with access automation
Control precisely which tenants can access their units when, all from within Stora.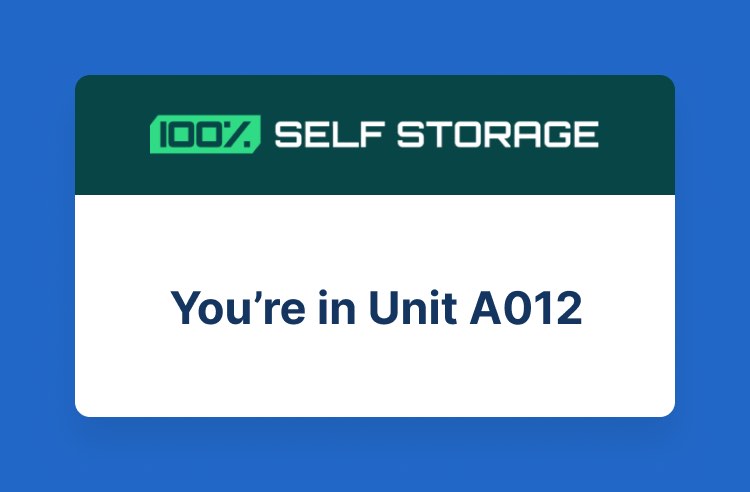 Auto reservation
Let Stora automatically allocate units to any new bookings from your website, and make it possible to offer One Minute Move-ins.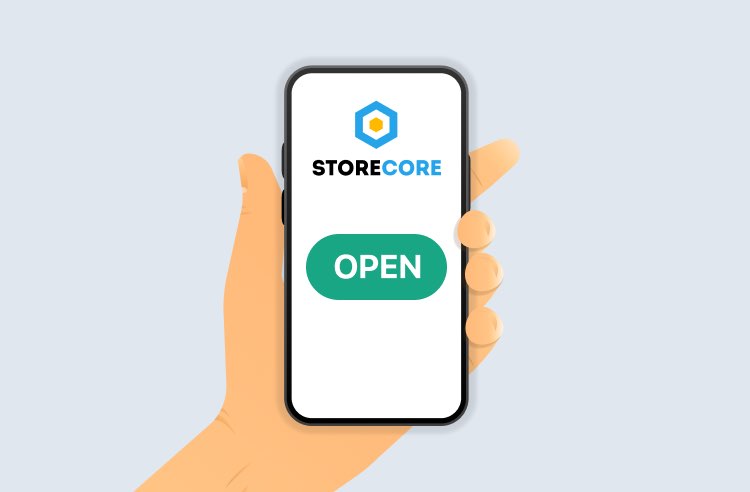 Auto access
Connect your smart entry system to give customers access via an app or with automatically generated codes. We integrate with systems worldwide and are always adding more.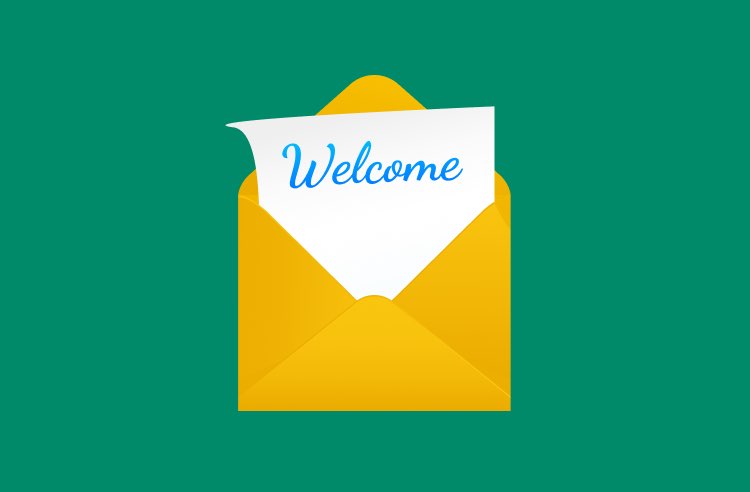 Auto entry instructions
Automated emails tell customers exactly how to access your site and their unit, so you don't have to remember to write to every renter.
Effortless automated storage space management
Delegate your repetitive chores to Stora and free up your time to focus on business growth.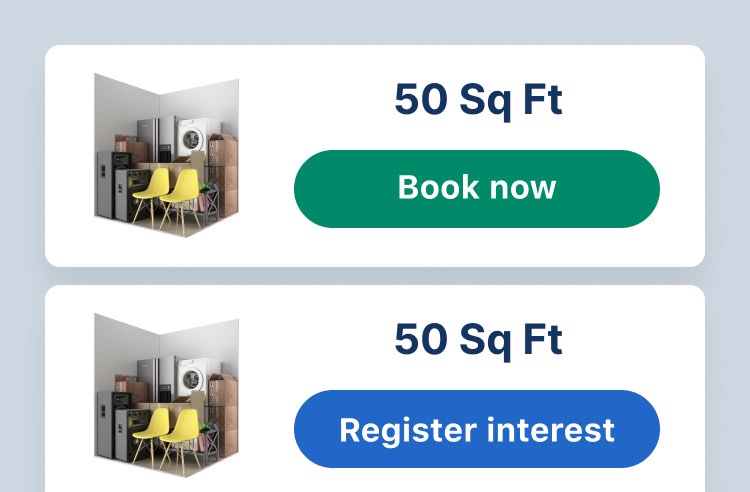 Auto availability
Always be sure your Storefront is set up to match your availability. Let Stora switch the status of any unit type to collect bookings or leads to match if units are available or not.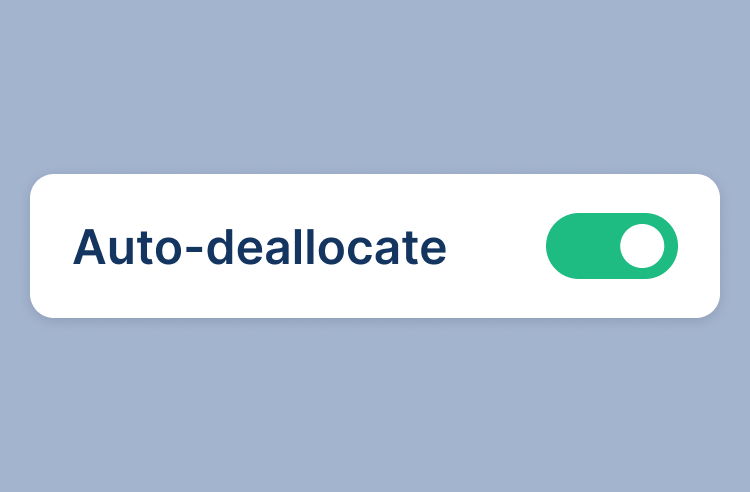 Auto deallocation
Never forget to remove a customer from their unit. Once they've finished storing with you, make it automatically available for the next customer!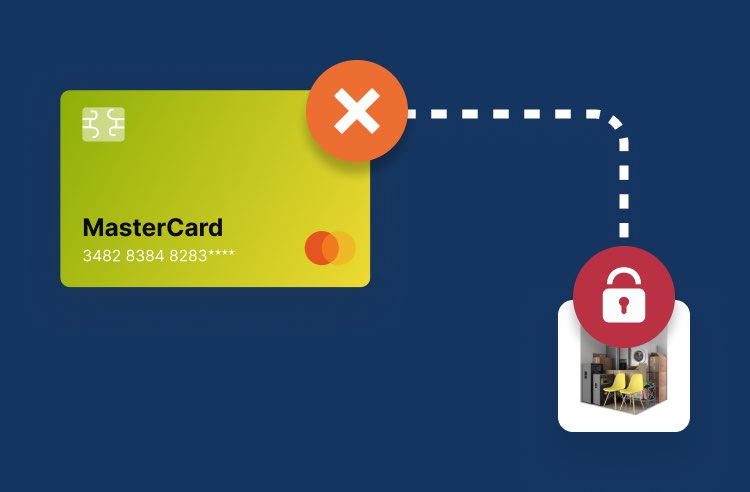 Auto overlocking units
Set Stora to instantly lock out tenants whenever they miss a payment and automatically reactivate access once payment clears.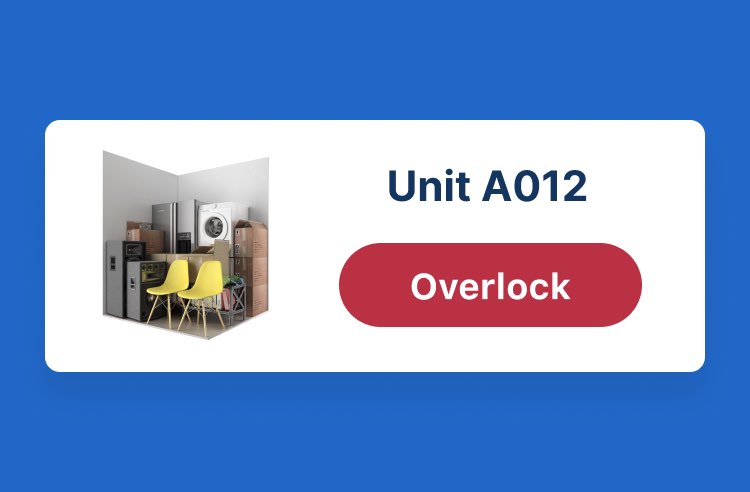 Manual overrides
Block tenant access at any time with a simple click of a button in Stora.
See real-time vacancies in one place with our award winning smart maps
See who's awaiting allocation, which units are empty, and manage them all from data-rich, interactive floor plans.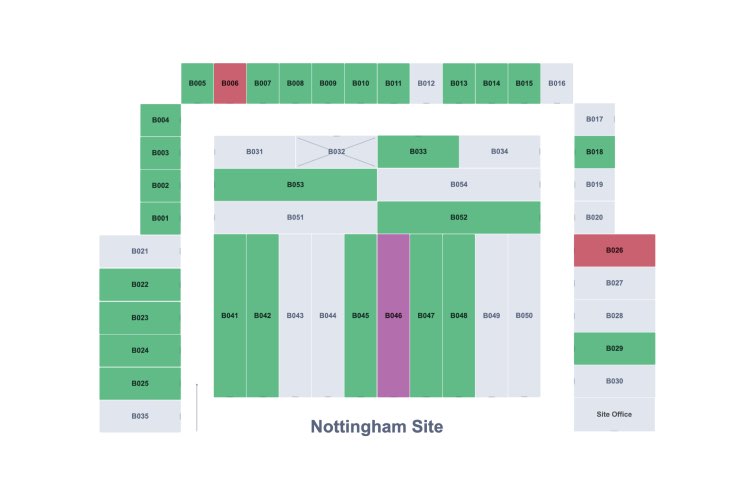 Birds-eye status summary
Why jump between systems or screens to figure out unit availability when you can review your entire facility at-a-glance?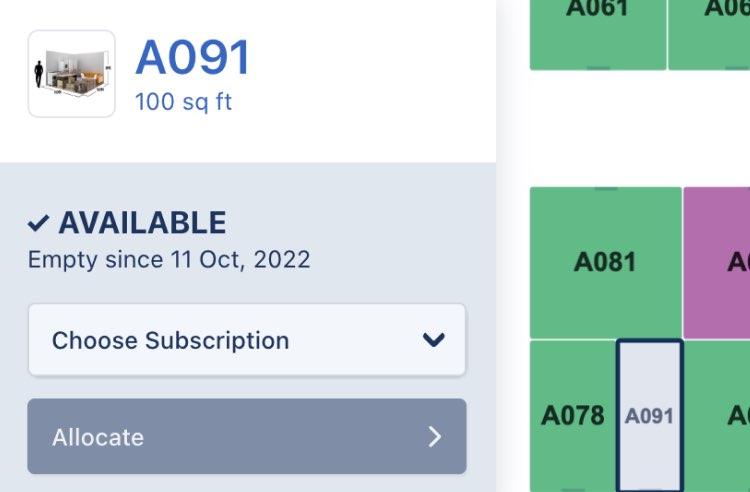 Point + click management
Swiftly change a unit's status, assign it to a tenant, or jump into a their rental history with convenient selectors and controls.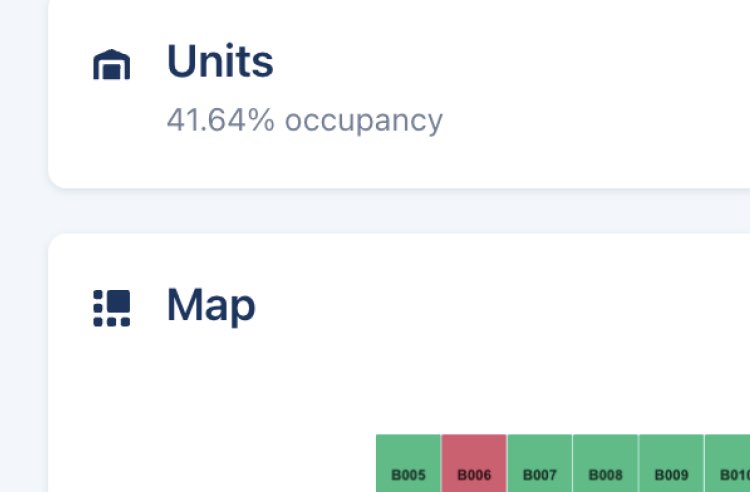 Live updates
With Stora you're always seeing the up-to-date occupancy breakdown. Change a unit's status and watch your map update instantly.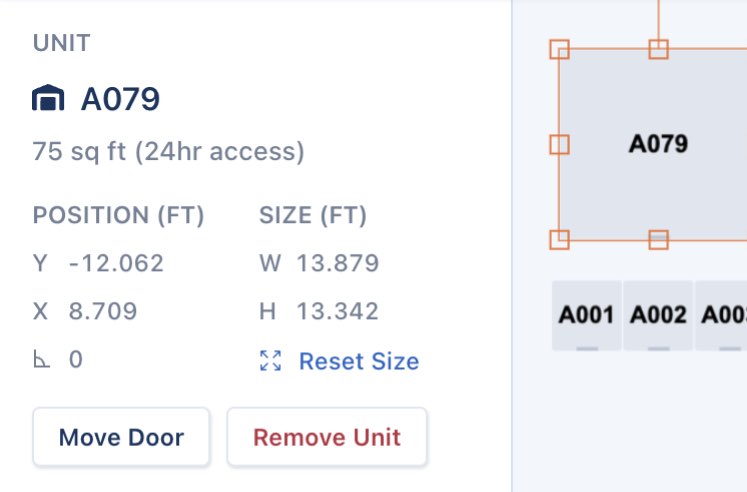 Simple set up
Make your site maps using simple drag and drop controls, or let our team make them for you.
Make space with fully flexible assignment control
When large units fill up, allocate multiple small units to a single tenant without multiplying the admin. Stora keeps it all conveniently unified on the one tenant account, invoice, and payment.
Eliminate data entry
Cut out the keying with tenant contact and financial data that auto syncs between your united Storefront and Backoffice.
Effortless facility management from your Home screen
Unlock the power of data-driven decision-making with the Home screen – your tailored dashboard for managing self storage facilities with ease.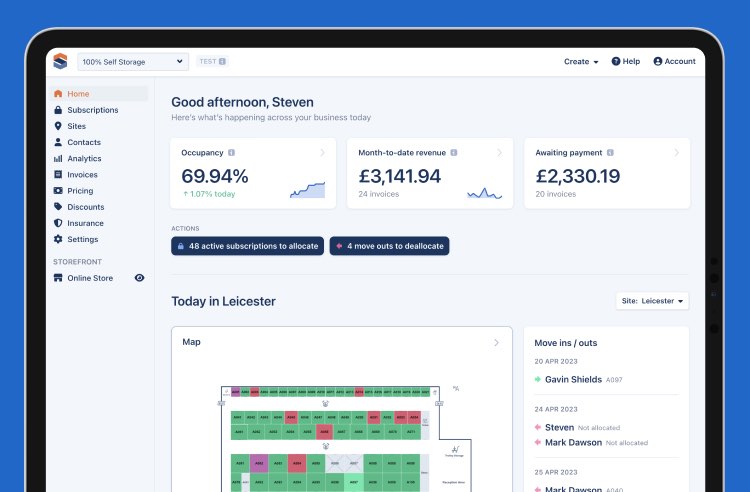 All-in-one self storage dashboard
No more juggling between tabs or screens. The Home Screen brings together the most crucial metrics and actions for seamless facility management.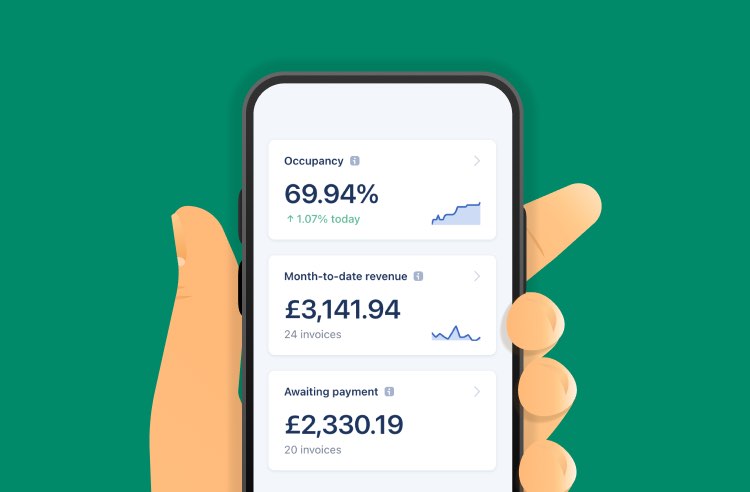 Key business metrics at your fingertips
Stay informed with real-time insights into key data. Monitor current occupancy, keep track of your month-to-date revenue, and manage outstanding balances with ease.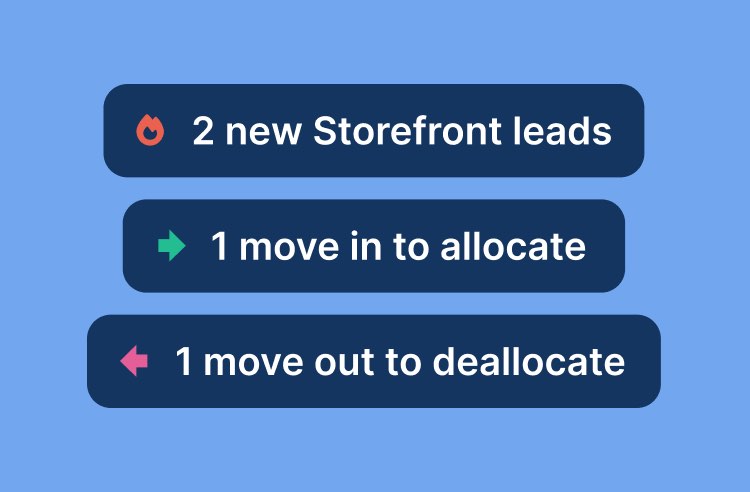 Get alerted and take action in seconds
Contact new leads, allocate move-ins, and manage move-outs with real-time alerts. Never miss an opportunity or overlook an action.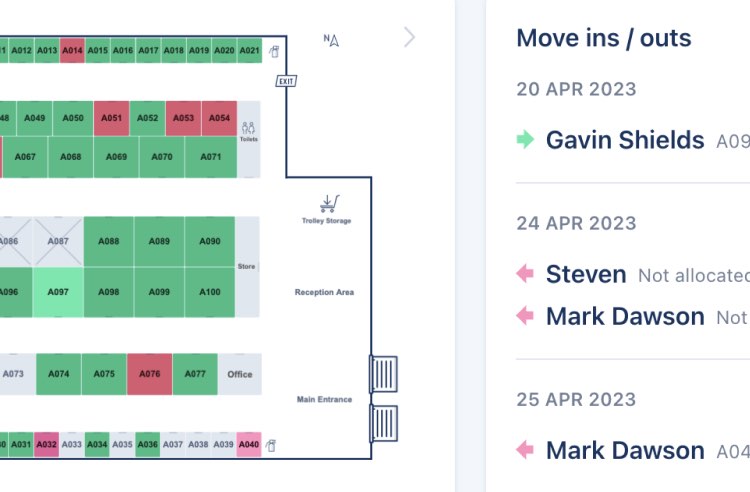 Tools for day-to-day site management
Manage all of your sites straight from the home screen. Gain instant access to each site's map, along with upcoming move ins and move outs.
Plus all the essentials you'd expect, but smarter
Manage everything together
Complete tasks faster with facility, unit, sales, and customer controls at your fingertips.
Facility Management

Add facilities
Add new unit types
Create units in bulk
Allocate units
Track availability
Tailor settings per facility
Set different entry types per site
Tenant + Lead Management

Search + filter tenants
Add notes
Add order numbers
Control online booking ranges
Set move-in times
Sales Management

View + manage invoices
Create invoices manually as needed
Add new billable items to invoices
Manage payments
Change payment dates + methods
Recharge cards on file
Work + grow without limitations
Experience self storage management software that's built for business convenience and efficiency today...and where you're headed next.
Accessible everywhere
Cloud convenience lets you manage work from wherever you are—in your office, during school drop offs, or even the gym.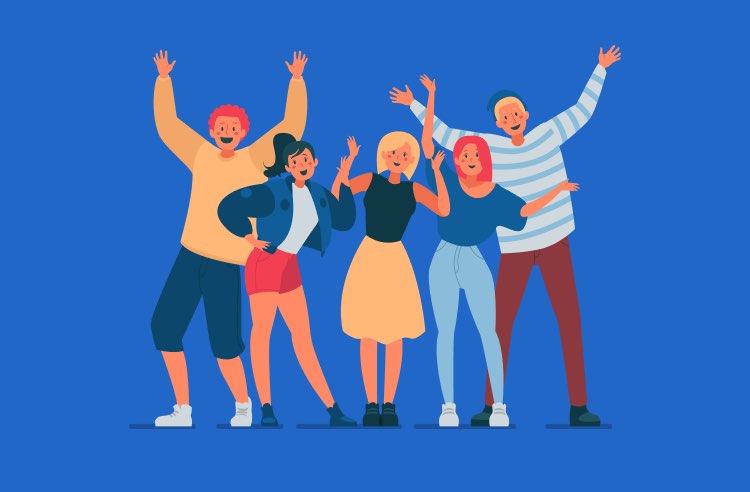 Unlimited users
Add team members to your account at no extra cost to streamline management for everyone.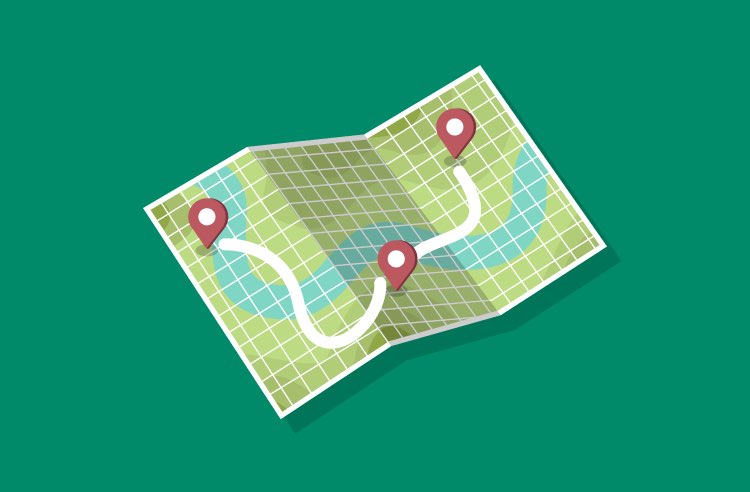 Long-term support
Stora can support unlimited sites and units, so as your facilities grow and locations increase, Stora expands with you.