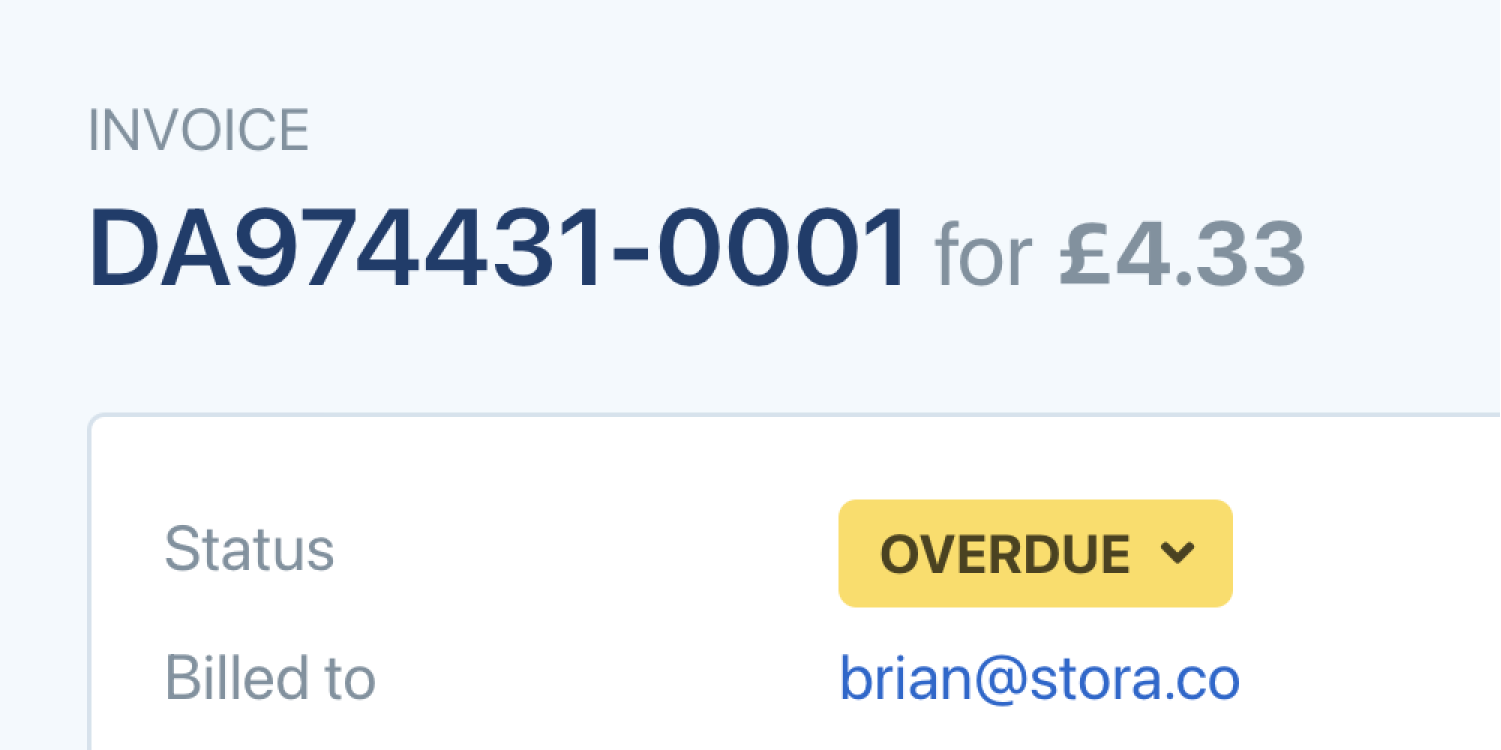 Set up and track subscriptions paid by Bank Transfer, Cash, Cheque
We've added a brand new subscription set up form to the Backoffice. This is your new go-to-place when you need to set up any type of subscription on behalf of a customer (including Card Payments).
How manual payment methods work
When you select a manual payment method such as Bank Transfer, Cash or Cheque, Stora will begin generating invoices and emailing them to your customers on their due date. Each email includes external payment instructions that you can specify.
You can then go and independently verify an invoice has been paid, and update its status in Stora to reflect, ensuring your records are up-to-date. The invoice emails also include a one-off Card Payment link, giving your customers a way to pay instantly. You won't need to worry about updating the status of the invoice if they do.
Everything else in the new form works much like the Storefront booking form. You select the usual unit info — Move in date, discount, insurance etc.
There's a nice extra bonus too where you can turn off any of the booking emails your customers might get upon setting up their subscription. This is a handy way to ensure you don't disturb existing customers who you're importing from another system.

Card Payments via the new form
You can also now set up any subscription using the normal Stripe Card Payments via this new form. When you submit the form for a subscription paid via card, you'll be taken to Stripe to add card details before being brought back to Stora with your newly set up subscription. We recommend setting these up from here from now on to enjoy the extra control over emails. It's also easier to select a different discount or price from here too!
Visit your Subscriptions view and press "Create a Subscription" at anytime to set one up. For more details on how it all works check out this guide.
Sold out of a unit type? No problem. Now you can collect leads for it instead!
Sometimes you run out of a specific Unit Type and need to stop selling it. To date, you've only been able to hide it from your Storefront, but this great new feature swaps out the booking form for the Unit Type and instead lets visitors know it's unavailable. They're then asked to provide their contact details to get notified when it's bookable again.

You get an email when these new leads come in giving you the chance to contact them and sell a different Unit Type. Best of all, when you flip the Unit Type back to bookable again, everyone who registered interests gets an email notifying them of its availability again instantly. If you'd like to set a Unit Type to collect leads instead of bookings simply edit its Storefront status in the Unit Type edit form.

Turn insurance off for any unit type and specify minimum coverage requirements
You can now turn off insurance for any (or all) unit types in Stora. That means that your customers won't be shown any info about insurance nor asked to provide/purchase insurance cover with you.
If you are selling insurance, Stora now lets you specify the minimum amount of insurance that needs to be purchased for a unit type. When you do so, any insurance cover levels that are lower than this amount will be hidden from the Storefront and only levels above it will be selectable by your customers. This is perfect for your bigger storage units where you might want to ensure you're getting a higher level of cover from customers.
Visit a site in Stora and edit any Unit Types Insurance section to make these changes.
Grow with Stora today
Join modern self storage businesses worldwide who grow sales, reduce costs and save time with Stora.