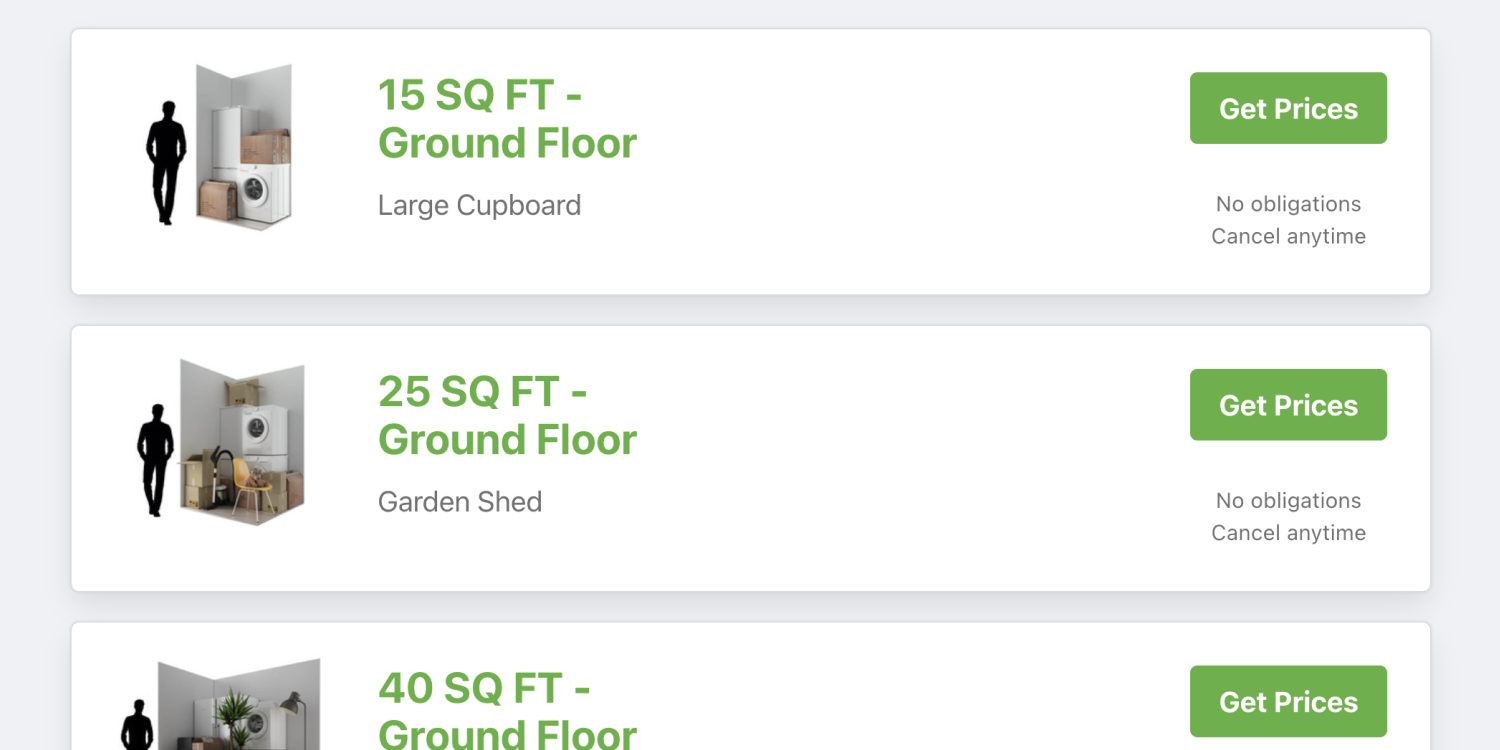 Want to capture a visitors contact details before showing your prices? Now you can!
We're big believers in the benefits of showing your prices on your website. But we appreciate that some self storage operators prefer a sales process which enables them to discuss options with potential customers.
That's why we've listened to your feedback, and have given you a simple way to hide prices on your Storefront until a visitor has entered their name, email and phone number.
How it works:
You can hide prices for any site, visit the relevant edit site page by contacting us.
Your prices and booking forms will be instantly hidden. Instead the customer will be presented with "Get prices" buttons which take them to a different form to enter their contact details.
Once submitted, they are taken back to the site page and can see all prices and book directly should they wish to.
With every submission, you'll instantly receive an email notifying you with their contact details, and the storage unit size they were interested in allowing you to get in touch should you wish. These details are also stored as a lead in Stora.
How hiding prices works
When a visitor requests prices, they aren't creating an account. Instead, a browser cookie is created which logs that the visitor should see prices. This visitor will now always see your prices until one of the following happens:
They clear their browser cookie data
They visit your website in a different browser/device
They visit your website in an incognito tab
Should the visitor proceed to book they will be creating an account. When they are logged into their account they will also always see prices.
Add payment cards directly in Stora
Great news! You can now add debit or credit cards for your customers directly in Stora. Just visit their profile in Stora and add the new card. You'll then need to visit any subscriptions they have set up and select the new card as the subscriptions payment method.
It's perfect for when your customers card has expired and you need to update it for them and also means you can...
Easily change a subscription from a manual payment method to be paid by card
Have you ever had to set up a subscription to be paid via Cash, Bank Transfer, Cheque or other means with a view to update it to card payments later? Well that's now super simple to do! Add the credit or debit card to the customer, then change the payment method to the card from the subscription. All future invoices will then be paid by card. Handy huh??
Grow with Stora today
Join modern self storage businesses worldwide who grow sales, reduce costs and save time with Stora.